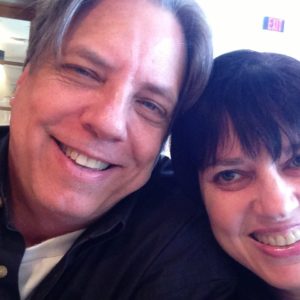 Pastry Babies is a family-owned, small batch, gourmet production bakery, located in E. Nashville, TN. It was founded in 2011 by the husband and wife team of Dale Rogers and Erica Leeds. Our products are top-shelf and all natural.
Erica
Erica's grandfather, Charles, was a baker who owned the The NY Bakery in Rochester, NY. She spent many a day learning to decorate cakes in his shop. As a result, Erica inherited the baking gene and has baked for family and friends for years; preferring to create biscotti, scones, and cookies to cakes. A Masters-level Social Worker, she served the community for 20 years helping people without means to get the services they needed. In 2011 she shifted directions to pour her passions for baking and people into baking  as a profession.
Dale
Dale is a Web & Instructional Designer and Assistant Professor of Multimedia & Web Design at Nashville State Community College. Dale's passion is design. Therefore the packaging, labeling, logo and web site fall into his domain. His goal is to ensure the design reflects the quality of the products inside and the web site gives you the information you need and the ability to purchase our products online.
Our Vision
We love high-end foods and desserts. Pastry Babies specializes in a line of natural gourmet pastries that are the product of years of honing Erica's recipes. As Erica's grandfather Charles used to say, "It's better with butter." All of our recipes use certified organic butter, organic cage-free eggs, and only the highest quality ingredients.
Biscotti is our flagship product and is in a league of it's own. Compared with other biscotti, ours is denser and incorporates more complex texture and flavor combinations. We have partnered with wine, spirits, and coffee experts and have developed flavors to pair nicely with a variety of beverages. Our biscotti holds up well to dipping, yet is soft enough to enjoy alone as a cookie. Our vision is to create a high-end, top-shelf affordable luxury that you can savor by yourself or share with family and friends.
Small batch and all natural from Nashville. Our products are a little bite of heaven.
We hope you enjoy our products.
Dale and Erica
Save
Save
Save
Save
Save
Save
Save
Save
Save
Save
Save
Save
Save
Save